Post by Katniss on Nov 17, 2013 20:41:03 GMT 7
4th Nov 2013
Source: Sina Entertainment
Translated by: Michelle Ye's Realm
Series version 'Flying Swords of Dragon Gate'; Michelle Ye plays a whole new Jin Xiangyu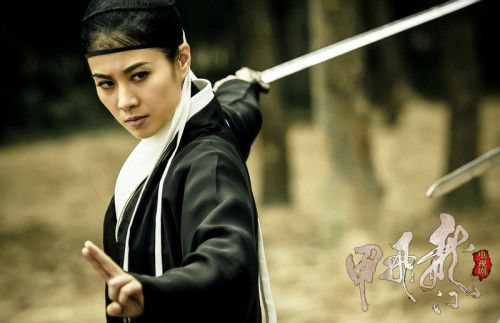 Sharing the same title as Tsui Hark's movie, the series 'Flying Swords of Dragon Gate' is currently filming rapidly, a series version of the classic work. This time around, the Dragon Gate Inn's innkeeper 'Jin Xiangyu' is played by Michelle Ye. Recently, media first exposed Michelle Ye's image in the series, she is at times a tough warrior, at times a tender one, causing the audience to anticipate much of Michelle Ye's version of Jin Xiangyu.
Dragon Gate elements deeply rooted in heart, accepted acting role even before reading script
Michelle Ye loved reading Wuxia novels when she was young, from Gu Long to Jin Yong, she has read each and every one of their works, keeping the plots and characters deep in her heart. Her love for Wuxia works causes her to have much fate with female warriors (characters), especially after watching a series of Dragon Gate's works, she is deeply mesmerized in the story. The coquettish innkeeper Jin Xiangyu especially drew Michelle's attention. She recalled saying: "I felt that this woman is just too seductive and fascinating, her whole face tells a movie." Coincidentally the producer of 'Dragon Gate' is Michelle Ye's collaboration partner for years, and when he proposed her playing 'Jin Xiangyu', Michelle Ye accepted the role even before reading the script.
Michelle, a more comprehensive version of Jin Xiangyu
Maggie Cheung who plays Jin Xiangyu in the movie version of 'New Dragon Gate', a thoroughly coquettish innkeeper, her gazes exudes truly seductive aura, her every move is attention-grabbing, she has a signature phrase: "Those who dare not meet my eyes are not man." In the movie 'Dragon Gate', Zhou Xun playes the innkeeper who lacks the seductiveness, and instead has the air of a witty warrior. Meanwhile in the series version of 'Dragon Gate', Michelle Ye plays the same female innkeeper Jin Xiangyu, a more comprehensive version, a passionate lover.
When revealing Michelle's series photo, Jing Xiangyu was interchanging between a red and white costume, as well as at times in a black veiled hat. There are also times when she sits alone playing her flute with gazes filled with loneliness. She also has captivating scenes with Zhao Huaian played by Nie Yuan. In the series, vigilant Nie Yuan raised a blood-smeared sword at the throat of Michelle Ye, who showed no signs of intimidation, and even slightly smirks. The producer said, "Jin Xiangyu in this series is the combination of Maggie Cheung and Zhou Xun's version, she is heroic, as well as lovingly passionate, this is a much more solid and comprehensive version, Jin Xiangyu also has a twisting love fate with Zhao Huaian, thus this character is more refreshing."
Demonstrates a capable innkeeper in movie and in real life
In the movie she plays a capable innkeeper, in real life Michelle Ye is also a successful female entrepreneur. Since early 2011, Michelle Ye established her own working studio in Beijing, and is now chairman of Zhejiang Dongyang Bohai Entertainment Co. Ltd. As well as the sole female vice-president of Hengdian Movie Industry. Asked if her experiences as a boss in the real world helps her in the movie, Michelle Ye frankly responded, "An inn is similar to a small company, it also requires a systematic management."