Post by Katniss on Jun 2, 2011 22:25:22 GMT 7
May 25, 2011
Translated by: RM_Fate@asianfanatics.net
Source: http://www.daeee.com...cle/106436.html
Michelle: Will get married when I'm 60.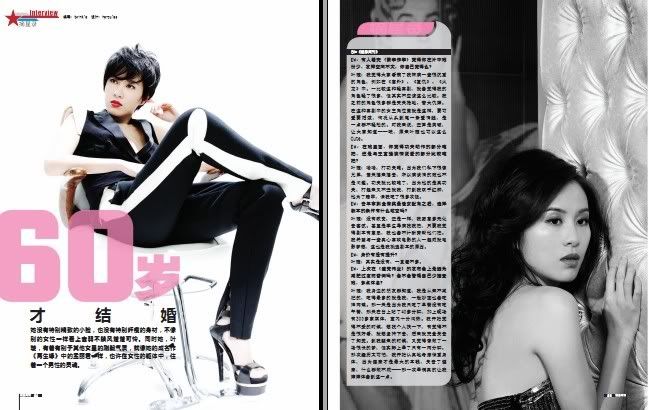 She does not have an exquisite look, or a slender body. But unlike other women, her figure was not as fragile as it seems. At the same time, Michelle is different from other actresses when it comes to resolute temperament just like her character Mang Lai Kwan in "Eternal Happiness" . Perhaps her female body still has a man?s soul inside of her.
EW: Some people feel that you only had a few scenes after they watched "Choi Li Fut" . Do you think so?
Michelle: I think people were used to seeing me portraying important roles like in "Accident",
"Vengeance", and "Fire of Conscience" . In comedy roles, for example, people will feel that my role is very small, but actually we cannot compare that. Most of my previous roles were usually involves crying, feeling bitterness and deep hatred. That is why in comedy dramas, female leading role has to be cute and lively. It is a breakthrough to me. I can let everybody know--oh, Michelle can also be cute.
EW: Do you feel that kung fu actions are hard to film, or when trying to film the part where you fall in love with Wong Bao Qiang?
Michelle: Haha, kung fu. Because we are like brothers in real life; we usually play around all day, which is why it wasn't hard to film. Kung fu is a little bit harder because he used real kung fu. When fighting each other, he did not go easy on me. We fought until my hands were swollen. Because he wanted to apologize, he took me out to eat a few times.
EW: Last year you won "Best Supporting Actress" award, do you have any changes for the requirements when selecting scripts?
Michelle: It's still the same, no changes at all. I'm willing to try anything. Even the director had selected me to film a role as a student. As long as I feel that the script is meaningful, I will film for them without any rewards in return. I wish to accomplish acting movies with people who really enjoy movies themselves, which is also the reason why I chose the script.
EW: Has your social status gone up?
Michelle: Actually no, about the same.
EW: During the press conference for "The Founding of a Party", you fainted because you were on a diet? Because of this incident, will you stop accepting dramas and movies, and rest more?
Michelle: My friends know that I don't lose weight. Out of all of them, I usually eat the most. Like fried noodles, I can actually eat about two plates. That day, I only ate breakfast and skipped lunch; I also stood on the stage for 40 minutes or so. Plus, there were about 300 news media, and it was very hot. When I first noticed that I wasn't feeling well, I wanted to find someone to sustain me. But that does not look good in front of a lot of people, so I continued to stand. Afterward, I completely lost consciousness. After I woke up, I felt like I had a long dream, but in reality, I only fainted for about one or two minutes. After that incident, I felt very scared and I began to take care of myself more. Because health is very important; when we are unhealthy, we cannot do anything. After that incident, it made me realize the importance of health.
EW: You were highly acclaimed in "Hi, Fidelity" , do you have confidence in receiving an award based on this role?
Michelle: About the awards... it depends on fate. What if the people did not enter this movie? I used to like the movie that I collaborated with Gordon Lam. I really like this movie but it was not declared. But that movie had a good reputation in the hearts of the audience. The trophies cannot compare to the public praise, but having public praise is the same. Just like Sean Lau, he hasn't received the Best Actor award, but everyone see him as a best actor already. When one agrees, it does not mean that we can win. The audiences can also decide who to win based on our performances.
EW: You filmed less series after you entered the movies industry, why so?
Michelle: I actually filmed a lot of series in China; last year I filmed about four series. Because of the timing, I can only do one thing or the other.
EW: What do you like more?
Michelle: Both.
EW: It has been a period of time since you left TVB, do you miss the days when you were in TVB?
Michelle: Yes. Raymond, Rain Lau and I are good friends. Until now, we are still good friends.
EW: Have you thought about coming back?
Michelle: Yes. We still keep in touch with a lot of projects, but it depends on time and opportunity.
EW: Many artists complained that it was tiring working for TVB, do you also agree?
Michelle: It's okay to me, because people under TVB usually trained more than any other companies. We usually save the films, Directors Felix Chong, and Alan Mak both said, ?Actors and actresses that were trained under TVB usually take "one take" to complete, no need to NG. So filming in a fast-paced is not a problem for me.
EW: Recently most of the TVB "Siu Sang" and "Fa Dan" are leaving, what do you think about this?
Michelle: There must be talented people every generation. There must also be people leaving and staying in TVB, it's just their business. Just like myself, I also left TVB so this is not a special case.
EW: Recently, there has been a scandal about Raymond and Mavis. As a good friend of Raymond, did you comfort him?
Michelle: Comfort him? I'll make fun of him la! I will just take it as a joke.
EW: There have been fewer gossips about you these few years. Can you tell us a little bit about your love life?
Michelle: Really? I don't really think so. I usually don't know about my gossips. (EW: Is it like what Bao Qiang Wang said about you having a stable boyfriend?) Don't listen to what he said. Where do I find a "stable" boyfriend if I'm so busy?
EW: Do you have any plans on when to get married and have children?
Michelle: ...about 60 years old. (EW: 60? You can't give birth anymore!) I'm talking about marriage. It depends on fate if I can give birth or not. In fact, I really like little kids. To me, Bao Qiang's son is already my godson.
EW: Since you don't even know about Bao Qiang's secret marriage, do you prefer your marriage to be announced or keep as a secret?
Michelle: I will have to wait when I'm 60 to know about that.