Post by Katniss on Sept 19, 2010 21:18:00 GMT 7
Johnny To brings favorites, Louis Koo, Michelle Ye to Hong Kong Fresh Wave Opening ceremony
Source: Sina Entertainment

19th Sep 2010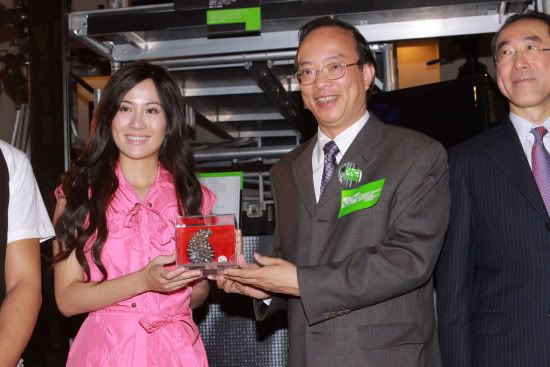 2010 Fresh Wave International Short Film Festival (http://www.freshwave.hk/) co-organized by Hong Kong Cultural Development and Hong Kong International Film Association held its officiating ceremony yesterday at Hong Kong International Finance Centre yesterday. As the founder of the film festival, Hong Kong director, Johnny To brought his two favorites, Michelle Ye and Louis Koo to officiate the festival together.
Recently, Johnny To has been working hard for Hong Kong film festival, and he has also put efforts for the newbies 'Fresh Wave' events, he expressed that the Hong Kong movies is able to recover from its downhill in the past because they have a group of new blood who puts in efforts for the industry, 'Fresh Wave' was first organized to identify and nurture the new generation of talents for the Chinese movie industry.
Besides having founded 'Fresh Wave', Johnny To, as one of the most influential figure in the movie industry today, is willing to become mentors to nurture the new generation talents for the Chinese movie industry. Among the several 'To class' disciples, Louis Koo and Michelle Ye are his excellent students who've brought him pride. Louis Koo who is recently recuperating from his leg injury and Michelle Ye who is currently filming 'Jian Ye Wei Dang' were also present at the ceremony that night.
Louis Koo and Michelle Ye were both the siu sang and fa dan of TVB station, who both then progressed towards the big screen and was then recognized by Johnny To for their outstanding acting and refreshing spirit, and has since led in Johnny To's Election, Accident, Vengeance, etc productions, and has successfully earned the position as the succeeding icons of the movie industry. The two collaborated to act in 'Accident' which has been nominated in several local and international film festival including Cannes Film Festival, Asia Pacific Film Festival, Hong Kong Film Awards and many more.
At the ceremony, when asked what message he has for new directors who've participated in this festival, Louis Koo claimed that he too has had the experience to film short movies, the challenges and process has been a valuable experience and hopes that the new directors will work towards it with diligence. Michelle Ye quoted her mentor Johnny To's words, "If you love movies, then insist to love movies, no matter how difficult the path in the movie industry is, there will be a light at the end." Meanwhile, the Hong Kong Finance Secretary, Henry Tang and Cultural Development Board of Director, Ma Pingguo who were present at the festival, presented a token of appreciation to both of them respectively.
It is revealed that in the period of the 2010 Fresh Wave International Short Film Festival, many short films which have participated will be evaluated by international panels to select the productions for awards such as 'Best Movie Award', 'Best Creativity Award', and many more.
Video:
v.tv.sohu.com/20100919/n275068493.shtml