Post by Katniss on Oct 22, 2013 7:04:03 GMT 7
August 30, 2013
Source:http://yule.sohu.com
Translated by: Michelle Ye's Realm
Michelle Ye guest stars in 'The Virtuous Queen of Han'; Gorgeous photos of series revealed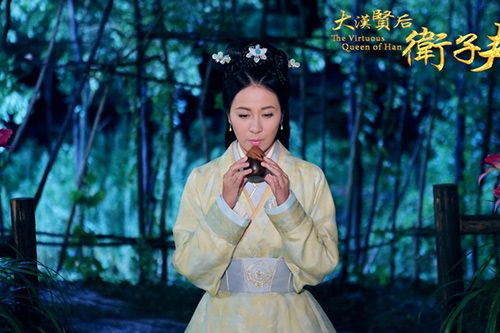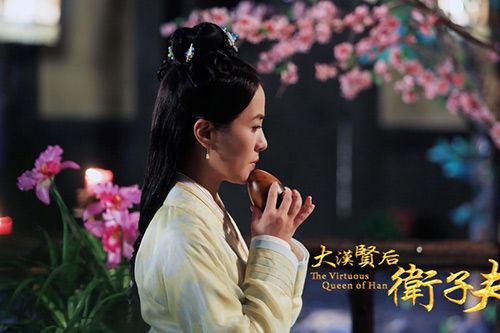 The joint collaboration of Hua Ce Film and TV with HK Now TV, casting Wang Luodan, Raymond Lam, Niki Chow, Jeremy Jones Tsui, Shen Tai, Sally Chan, Grace Yu, etc, 'The Virtuous Queen of Han' is entering the last stage of filming. Michelle Ye guest stars in the series, playing a 'catchy' role demonstrating the
Michelle Ye guest stars to convey 'Four Gifts' ideology
'The Virtuous Queen of Han' is the first kind creation of Hua Ce Film and TV about "China Empress", and also the first venture of HK Now TV into the series industry. The investment of the series exceeds a million, and is about Empress Wei Zifu (by Wang Luodan) who transforms from a songstress into a virtuous empress of times. With her virtuous personality and determination to have a peaceful 'imperial harem', she is able to be with Emperor Wu (by Raymond Lam) for a legendary 48 years, and is an immensely optimistic series of the palace life.
'The Virtuous Queen of Han' is directed by Hong Kong's Lau Kaho, with Mui Siuceng as the producer. Mui's television series have always been conveying positive motivation, thus 'The Virtuous Queen of Han' is no exception. In an interview with Mui, she revealed 'Virtuous' will be conveying elements such as 'non-conflicting, non-boastful, non-revealing', 'wealth, poverty, sweetness, and bitterness with joy, togetherness, peacefulness, family unity and kindness determination' as well as the 'Four Gifts' ideology.  
Mui mentioned that she really likes Master Hsing Yun's positive ideology, and incorporated much of them into her television series, such as the 'three virtue' element in 'Beyond the Realm of Conscience', being the 'do good deeds, say good words, have good intentions'.  
I also really like 'Four Gifts', 'give confidence, give happiness, give hope, give convenience', if everyone gives others 'four gifts', then it would be perfect. In this creation 'Virtuous', I thought of incorporating these elements, thus the character Siu Ngaan which is played by special guest Michelle Ye.
Miraculous fate on air leads to collaboration
Michelle Ye made acquaintances with Lau Kaho and Mui Siuceng since her TVB days, but felt sorry that they have never worked together in the years, "This is the first Mainland series of Brother Kaho and Sister Siuceng since joining NowTV, I am very happy with our collaboration this time."
Michelle Ye is also the good friend of 'Virtuous' male lead, Raymond Lam, where both of them have already collaborated three times, "This time in 'Virtuous', Raymond and I do not have scenes together, but it's considered our fourth collaboration." On the other hand, Michelle Ye smiled saying she knows of Jeremy Tsui, with whom she has scenes with, where both of them nearly collaborated before, "We did not get to work together that time, I'm excited to have such exciting scenes with a handsome actor like him this time around…"
Mui expressed that she is very happy and grateful for Michelle Ye's participation in the production. "I have long thought that Michelle Ye suits playing this 'Siu Ngaan' character, but as she is now a popular series and movie actress, as well as a producer, she is just too busy. Then, there was once when I was on the flight back to Hengdian from Hong Kong, and still wondering who should be playing this 'Siu Ngaan' role, she suddenly appeared before me. It seems that she got to know that we are on the same flight from my microblog and came over to greet me, and we started chatting." Mui said, due to this miraculous fate on air, she finally made the move to invite Michelle to guest star, and Michelle accepted her invitation without any doubts. "She also insisted not wanting any payment for this work, and also allowed the male lead in her series, Zhang Tianqi to assist in guest star in another scene."
Mui also revealed that, on the evening of the filming, Michelle Ye arrived an hour earlier, at 4pm, to the 'Virtuous' fiming set, allowing Mui to personally make up her image, and after more than three hours, Michelle had a quick dinner before rushing to the filming site. The filming continued till past 10pm before completion. "She was rushing back to her own series production for a meeting with the crew after the filming, I truly appreciate her efforts!" Mui was also very impressed by Michelle's professional attitude and outstanding performance.
Michelle Ye expressed, "Sometimes when we do something, it is purely for friendship and not really for money or anything else. I guess this is part of 'Four Gifts', haha! Furthermore, such collaboration allowed me to meetup with my friends, as usually we are just too busy." Michelle is also very happy to participate after reading the script and seeing Siu Ngaan's image, because it is through this refreshing character that she experiences the 'Four Gifts' ideology, which she felt was thoroughly worthy.