Post by Katniss on Aug 19, 2011 4:38:11 GMT 7
Michelle Ye & Crystal Wang's limelight loses color to Sean Lau
Source: Oriental Daily
Translated by: aZnangel @
asianuniverse.net/forums/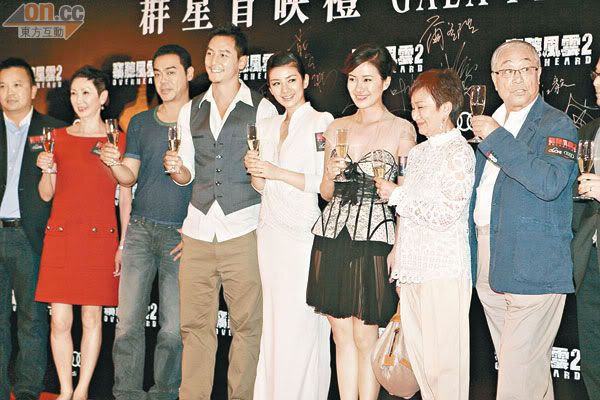 Since Louis Koo is suffering from leg injuries, the Overheard 2 film premiere was left to be supported by Sean Lau, Daniel Wu, Crystal Wang and Michelle Ye. Film premieres had always been a beauty battle between the female artists. The night of the premiere, Michelle and Crystal had on respectively a girdle transparent dress and a deep V evening dress. Unfortunately the 'attention' on the two were limited, and only relied on their slight career lines for a feast to the eyes.
However, whatever the two girls tried to put forth, they were still unable to compare with Amy Kwok's knitted shirt that she carefully prepared for her husband Sean. Because the AC was on too high, Sean's hands were ice-cold and had a 'sticking out' figure (nipples seen under his shirt). When reporters praised his sticking out figure was very sexy. Sean embarrassingly pretended to do Crystal's spoiled voice asking for help. He said in Mandarin, "You all are so naughty!"
Sean and Amy have been married for several years and had always been a loving couple. Earlier Amy said her husband strictly prohibited her to look sexy. Every time she leaves the door, she would first have to have Sean's 'approval'. Reporters teased if he'll be cautious of what he chooses for his wife to wear to the Venice Film Festival? Sean made a slick response: "When was I that type of person?! (Do you have confidence to become the Film King?) If have to win, it should be director Johnny To first. I am just going to accompany him."
As for Louis' injury, Sean and Crystal both sent their blessings to him. Crystal laughed: "The day after Louis' got injured, I attended an event in Guangzhou with him. I saw him using crutches and thought some well known brand custom made that for him. Later, I saw he couldn't even stand straight while taking photos, that's when I realized he does have a serious injury. Then I ran over to help him, he said it hurts a lot. I don't understand why he's in so much pain, but he was expressionless." Michelle added a joke to tease Louis: "He's fat, old and has grey hair, now he's crippled too!"