Post by MYR Admin on Oct 21, 2010 10:06:23 GMT 7
'Chu Gui De Nu Ren' begins filming; Patricia Ha, Michelle Ye shares feminine love relationship
Source: Sina Entertainment

28th Sep 2010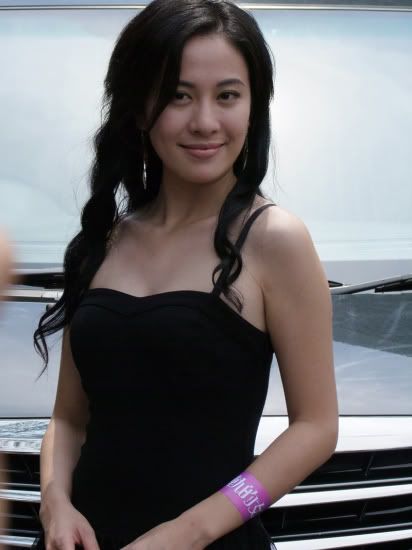 Feminine love relationship themed movies becomes the hot picks of movie queens, 'All About Love' leading Sandra Ng and Vivian Chow is a hot favorite in Hong Kong, 'Snow Flower and the Secret Fan' led by Li Bingbing and Gianna Jun is also very much anticipated. Yesterday, 'Chu Gui De Nu Ren' (literally 'Women in Affairs') (also known as 'Liang Xin Hua' – literally 'Double Hearted Flower') directed by Hong Kong director, Calvin Poon, and leading popular HKFA actress Michelle Ye, renowned actress of the 80s, Patricia Ha and Carrie Ng officially began filming with its blessing ceremony in Hong Kong yesterday.
Patricia Ha, Carrie Ng comes back from retirement just for Michelle Ye
Three HKFA actresses to portray passionate 'Brokeback'
Patricia Ha and Carrie Ng crowned as the top actresses of the 80s and 90s are now back in the industry for the homosexual movie 'Chu Gui De Nu Ren'. Both claimed besides the exceptional script, the chance to collaborate with Michelle Ye too becomes the main factor for them to accept the offer quickly. "Although (we are) not too familiar with Michelle Ye, her outstanding performance in the movie industry in the recent years is undeniable, besides we know that she is a very humble and gentle person, thus when we heard that we will be working with her, we accepted immediately." Coincidentally, Patricia Ha, Carrie Ng and Michelle Ye are three actresses who've been honored in HKFA. In 1986, Patricia Ha was nominated in HKFA's Best Actress award, while Carrie Ng won an award in the 19th HKFA while Michelle Ye was recently honored the Best Supporting Actress award in the last HKFA ceremony. The bold theme and the collaboration of three renowned actresses have made this movie the centre of media and public attention since its first started filming.
Challenging homosexual theme at maximum limits
Supported by renowned icons in movie industry
It was revealed that 'Chu Gui De Nu Ren' is mainly about the love relationship between three women, where the three leading actresses will breakthrough their past images for this movie. Besides having passionate kissing and exposed scenes, there will be passionate homosexual scenes as well, challenging the limits of the Chinese movie industry.
Discussing about the role in the movie, Michelle mentioned that she plays a lonely wife, because of complications with her husband (by Chapman To), she turned to spend time in the Ladies association and looked for fun with male dancers, where behind the nights of music and magnificence, lies her secret fervent love affair with Patricia Ha. Desire, conspiracy, love and marriage, seemed to come to an abruption with the fading of life, yet are actually just stirring up a beginning in between you and me.
Facing such a complicated, varyingly challenging role, Michelle humbly mentioned that she will put in her best efforts so as not to disappoint the expectations of Director Calvin Poon and producer Ng Kin Hung. The movie also has supports from renowned movie icons such as Patricia Ha, Carrie Ng, Chapman To, Lawrence Cheng, Candy Yu, etc, and thus the public is once again anticipating the outstanding performance from Michelle Ye.
Golden label scriptwriter, Yeung Yeeshan's script
'Chu Gui De Nu Ren' becomes HKFA's hot favorite next year
Script of 'Chu Gui De Nu Ren' is the work of Hong Kong golden label scriptwriter, Yeung Yishan, who has since the year of 2007 been labeled as the among the most important icons in Hong Kong movies through script 'True Women for Sale'. The female lead of the movie, Prudence Lau was crowned best actress in Taiwan's Golden Horse Award through the movie. Coincidentally, August this year, Yeung Yishan's script 'All About Love' leading Sandra Ng and Vivian Chow too achieved successful box office results and recognition. Therefore, new movie 'Chu Gui De Nu Ren' is naturally becoming the hottest movie of the Chinese movie festivals next year. With their skilled acting and box office appeals, it is expected that the three actresses, Michelle Ye, Patricia Ha and Carrie Ng will become the Best Actress nominees in next year's HKFA.
Hong Kong media's recognition: Michelle Ye challenging art film becomes pride of Hong Kong actors
As the only Hong Kong actress who participated in 'Jian Dang Wei Ye', Michelle Ye has received much support from Hong Kong media upon her return as the Hong Kong media are full of praises towards Michelle Ye's recent participation in a series of works, some expressing: "Michelle Ye is the pride of entire Hong Kong actors for participating in 'Jian Dang Wei Ye'", "Michelle Ye has proven that even as the popular actress in the market, announcing her acceptance towards art film 'Chu Gui De Nu Ren' brings a streak of modesty in the exclusive entertainment circle." Receiving such praises from the media, Michelle Ye preserved her usual humble manner, expressing: "It is only a biggest pride if I am able to film movies that audience love."