Post by Katniss on Jul 26, 2010 2:07:23 GMT 7
'No Rest for Restrooms' wins award, director thanks Michelle Ye's 'charity' performance

Source: Sina Entertainment

27th May 2010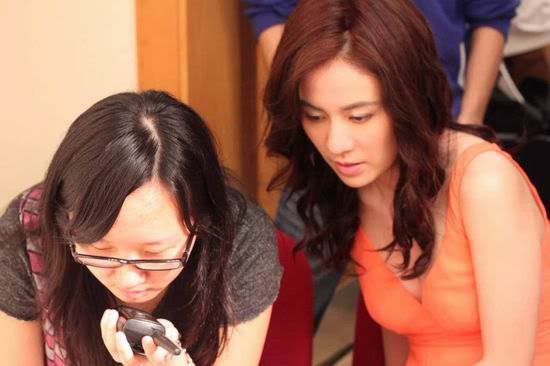 Student director Zhu Jiameng graduating project 'No Rest for Restroom' was premiered at International Youth Films Festival, and won all three 'Best Director', 'Best Scriptwriter' as well as 'Outstanding Actor' (Michelle Ye) awards. In her appreciation speech, Zhu Jiameng specifically thanked leading cast Michelle Ye as her mentor, not only she volunteered to act without any payment, she also took the same professional acting attitude to perform in this project, winning 'No Rest for Restrooms' awards.
'No Rest for Restroom' is the graduation production of Zhu Jiameng of Hong Kong Baptist University, as the production won funding support from an organizer of a competition before, but Zhu Jiameng expressed the fund was just enough for filming and has no additional budget to pay for professional actors, and thus one of her friend was initially the female lead, however the effect was not too good, and thus took the courage to contact Michelle Ye who she had once met at one of the film festival, where Michelle Ye unexpectedly quickly accepted the invitation after reading the script, and did not bother about the payment or the small production. Michelle Ye also studied the script together with Zhu Jiameng, wanting 'No Rest for Restroom' to be moving, and together they further developed the script to include further emotional elements. As the film is a 16 minutes short production, 'No Rest for Restroom' filmed for a total of eight days, where some days filmed right through midnight. Michelle Ye who is the main lead worked as hard if not more, touching Zhu Jiameng very much. She expressed the working environment of 'No Rest for Restroom' cannot compare at all to a proper filming of a movie, but Michelle Ye has no complains at all, and even uses her own attire, as well as using her own makeup artist. It was also because of her that renowned director as Dante Lam came to visit the filming set causing student director Zhu Jiameng to feel very lucky, hopefully when she has the chance to film a long movie, she still has Michelle Ye as her female lead.
Towards Michelle Ye's performance in 'No Rest for Restrooms', Zhu Jiameng expressed that Michelle Ye is a deserving winner of HKFA award, her performance are very appropriate, at the premier, all audience burst out laughing, their outburst of reactions are a recognition of Michelle's outstanding performance, the judges of International Youth Film Festival all highly praised Michelle's acting as excellent, and (Michelle) winning an award again (after HKFA) is well deserved. What was even more touching was that Michelle Ye as the new popular talent of the movie industry, is willing to find her own time in between her hectic schedule to help a newbie, such a passionate spirit towards movies, asking no returns earns respect of the panel judges.