Post by Katniss on Nov 15, 2009 12:35:47 GMT 7
This article was first published in The New Paper.
Sun, Nov 15, 2009
Credits: www.divaasia.com/article/6077
Michelle Ye and her new movie
by Tan Kee Yun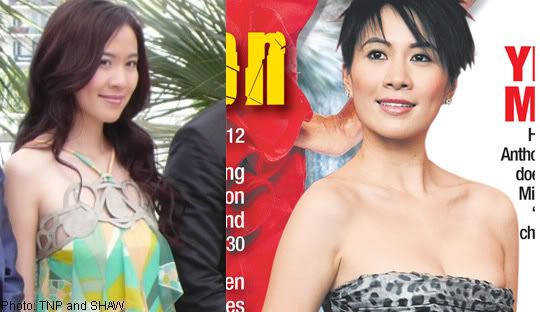 "Admittedly, the whole Hong Kong film industry is male-dominated, but often, the women characters are very eye-catching and outstanding too," the 29-year-old actress told FiRST in a phone interview from Beijing.
She was in the Chinese capital to promote her new crime thriller, Vengeance, which is currently showing in cinemas here.
She sounded bright and sprightly, not unlike the strong fiesty women she plays on the big screen. Before Vengeance, in which she takes on the small but pivotal role of Anthony Wong's lover, she was the sole female lead in the suspense film Accident, released a couple of months back and headlined by Louis Koo and Richie Ren.
Last year, she was part of the ensemble cast of another predominantly-male action flick, Sniper.
"I don't get bothered so much about whether I'm overshadowed by the guys or not.
It's always about challenging myself," said Michelle.
"In Vengeance, even though my role was a supporting one, it was something that I've never done before.
"And of course, it was wonderful to work with director Johnnie To."
Vengeance, also starring French pop icon Johnny Hallyday and veteran actors Anthony Wong and Simon Yam, is the latest Johnnie-helmed project.
The director, acclaimed for his stylistic gun-wielding, bullet-blazing films about brotherhood and friendship, was a great mentor on the set, Michelle said.
"He taught us actors how to approach the script, as well as how to approach each of our characters. I absolutely regard him as the godfather of Hong Kong cinema."
While Michelle relishes the roles that come her way, she is looking forward to further breakthroughs in her career.
The Hangzhou native said she hopes to star in a woman-centric film soon.
"The next film I'd be working on has a role that is customised for me. It's a big step forward," she said.
"But things like these don't happen overnight. "It takes time and experience to build up a repertoire. As directors get to know me better, hopefully they will craft better roles for me."
Michelle, who started out in television after winning the Miss Chinese International beauty pageant in 1999, also does not rule out a return to the small screen.
A household name while under contract with Hong Kong station TVB, she scored leading roles in drama series like Eternal Happiness (2002) and Triumph In The Skies (2003).
She left the station in July 2005.
"My main focus is on movies now, but should there be good television scripts, why not?" she said.
---
I think this is the article Baby-G was gonna scan for us. So hopefully when she scans we will have more pics to go with it.
;D